Resources
Cool Links
These links lead to friends, associates, or acquaintances that have material that may aid you in your path of martial arts. Whether searching for a little guidance, an idea, or just looking to further your general knowledge, these sites are great jumping off points. All of the people I have trained with or had personal communications with.
These martial artists are thoughtful, well organized, and bright - well worth your time.
Loren Christensen is the prolific author of 31 books and hundreds of articles on the martial arts, self-defense, law enforcement, nutrition, prostitution, and post traumatic stress disorder. His book On Combat, which he co-authored with Lt .Col. Dave Grossman, is mandatory reading at the United States War College in Washington, DC. Loren began his martial arts training in 1965, earning 10 black belts over the years, 7 in karate, 2 in jujitsu, and 1 in arnis. He is a retired police officer with 29 years experience in military and civilian law enforcement, where he specialized in street gangs, defensive tactics, and dignitary protection. Loren's web site has links to his books, videos, and a sampling of interesting articles.
Iain Abernethy the author of four extraordinary books on applied karate: Bunkai-Jutsu, Throws for Strikers, Karate's Grappling Methods, and Arm-Locks for All Styles. He has produced numerous DVDs and videos on applied karate and kata bunkai and is a regular contributor to all of UK's leading martial arts magazines. Iain currently holds a godan (5th degree black belt) in applied karate from the British Combat Association, one of the world's leading groups for close-quarter combat and practical martial arts. He is also a yodan (4th degree black belt) in Wado-Ryu karate (English Karate Governing Body), a member of the Combat Hall of Fame, and a former national level kata judge in the UK. His web site has links to his books and videos as well as numerous outstanding articles written by Iain and other notable martial artists including Lawrence Kane.
Marc "Animal" MacYoung teaches experience-based self-defense to police, military, civilians, and martial artists around the world. His many books on self defense and martial arts are come highly recommended. A former bouncer, street fighter, and all around dangerous guy, his practical, real-world self-defense advice is available at his website.
Lt. Col. David Grossman is an expert in the psychological costs of war, the root causes of violent crime, and the process of healing the victims of violence in war and peace. A West Point Psychology and Military Science professor and a retired Army Ranger, he combined his experiences to form a new field of scientific endeavor which he has termed "Killology." His web site contains articles, books, and videos exploring this fascinating and important field.
FightingArts.Com is a cyber community and network of traditional martial artists, historians, and writers dedicated to the promotion and understanding of their arts. It contains hundreds of free articles and forums on a variety of martial arts disciplines and self-defense topics.
Charles C. Goodin is a writer, the head of the Hawaii Karate Museum, and the chief instructor of the Hikari Dojo in Honolulu, Hawaii. These are his personal thoughts?and the thoughts of occasional guest writers.
Is a dedicated traditional karate research group located on the edge of the Western Lake District in Cumbria, England. Its unique syllabus emphasizes an adaptable approach to the art. Chris Denwood 4th Dan is Chief Instructor of the E.S.K.K. With over 20 years experience in martial arts, he is a regular contributor to the UK's "Traditional Karate" and "Combat" Magazines.
The home dojo of Franco Sanguinetti, Sensei. A Goju-Ryu Karate and Matayoshi Kobudo dojo.
---
The North American Post, Special feature
The North American Post, translated
Recommend us with Google+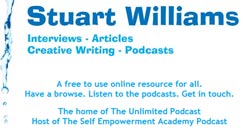 A free to use online resource for all.
Have a browse. Listen to the podcasts. Get in touch.
The home of The Unlimited Podcast
Host of The Self Empowerment Academy Podcast
---
"At this moment I would like to open the door a little further and invite you to look at some of my stories. They are mainly about the trials of those who are considered a little
different
. The ones that are usually outcast or misplaced as a result of being overlooked or misunderstood." ~
Matt Shea